Ruth Gregory reports…
Burnham Market is renowned for being a classic on the eventing calendar and this year proved to be no exception despite the change of seasons for the event that is usually held in the spring. But within the somewhat topsy turvy world of Covid-19 that has led to the sad cancellation of Blenheim Palace Horse Trials, no one was complaining of the event's new September date. Burnham Market stepped up to the plate in providing its first CCI4*-L section alongside the prestigious CCI4*-S competition, which was originally ran coinciding with CCI4*-S 8/8-year-old-championship.
So, with a top-class field, challenging course and lovely weather it was all set up for another exciting weekend of sport.
Oliver Townend was undoubtably the favourite to take the CCI*4-S crown once more after he's claimed top spot in the class for the last 6 seasons! And with the dressage ace and last year's winner Cillnabradden Evo as his chosen partner to challenge for the title- all eyes were on them to maintain their reign.
However, Izzy Taylor wasn't going to make it all plain sailing for the duo. Her and 4* debutant Hartacker put in nothing short of a foot perfect performance on the first day of dressage to post a Burnham Market record breaking score of 20.3. Camilla Behren's gelding has been exciting to watch having risen up through the grades from Novice to 4* in only two seasons under the expert guidance of Izzy.
With a fiercely competitive section Izzy didn't have much leeway as Oliver and 'Gary' proved they meant business by showing off a polished test for 23.3, holding them in provisional second place after the first day.
Young starlets Yasmin Ingham and Sweden's Therese Viklund both impressed with their dressage tests on the Friday to hold equal second and push Oliver to third before the testing jumping phases.
Izzy and Hartacker already had one hand on the trophy having jumped a lovely clear as they'd been timetabled to show jump on the Friday.
As of Friday night, it looked as if Izzy and Hartacker were set to win the CCI4*-S and 8/9year-old-championship as a whole.
But in a shake-up of events following the Sunday morning trot up- it was announced that the short format class was to be split back into two separate classes, with the 8/9 year-old-championship and standard CCI4*-S. This strengthened Oliver's chances of lifting a 13th consecutive 4*S win by putting him into a new poll position, whilst Izzy stayed in top spot going out of the start box for the 8/9 year-old-championship title.
Having led from the off Izzy and Hartacker picked up a frustrating green 20 penalties to drop them out of contention. Allowing Yasmin Ingham to move up and grasp the win on an impressive score of 22.3 with Janette Chinn and Sue Davies', Banzai du Loir.
Their win here is well deserved as the gelding has been impressive all season clocking multiple wins at intermediate and a 9th place at Burgham CCI4*-S.
"I couldn't be happier with all my horses this week but riding Banzai du Loir literally gives me goosebumps. Even better, Mum was here and it's the first time I have seen her since Lincolnshire Horse Trials because she's been in lockdown on the Isle of Man."
Runner up in the championship was Ros Canter and Lordships Graffalo, making it a perfect performance his first 4*. As Ros was off games with baby duty last year, the reins were handed to Tom McEwen who piloted Michele Saul's gelding to 8th at the World Young Horse Championships.
Making up the top 3 were Kitty King and Cristal Fontaine, who also contested at Le Lion D'Angers last Autumn to finish 6th. This season has been very successful for the striking grey with wins including the strong Advanced 8/9-year-old class at Aston-Le-Walls and an open intermediate victory at Cornbury House International.
In the newly separated CCI4*-S section Oliver and Cillnabradden Evo showed their class partnership as they cruised around the tricky country-country making it look like a pre novice. They only picked up a handful of time penalties, so once again stamped their names into the history books as Burnham Market champions, as if there was any doubt.
Aussie native Kevin McNab claimed second place in the section with Scuderia 1918 Don Quidam. Whilst, the very experienced combination of Sarah Bullimore and Reve du Rouet finished third- the ideal prep run before they look ahead to Pau. Just missing out on a podium finish by 0.1 of a penalty was China's Alex Hua Tian with his Rio 2016 ride Don Geniro. Pip Higgins' and Pam Dews' stunning chestnut has proven to be super consistent again this season with 3/3 double clears.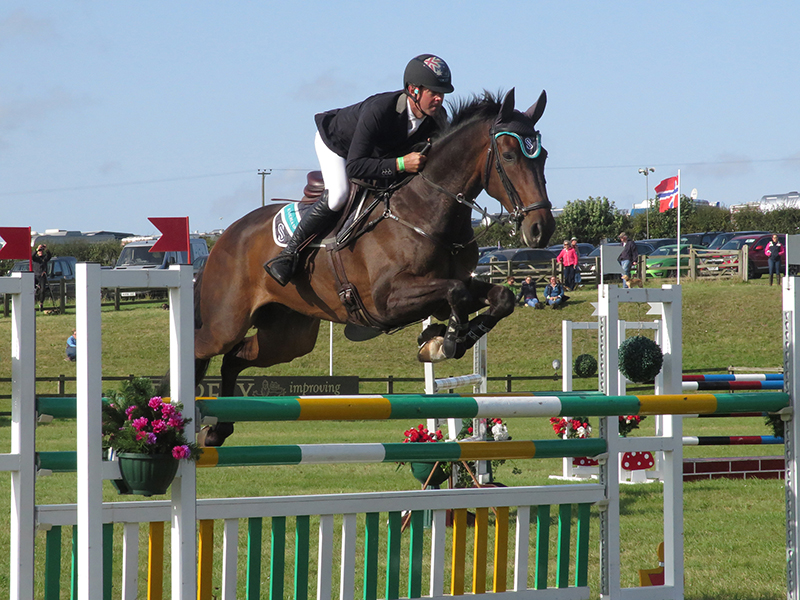 A Farewell to Gary
Little did fans know that Cillnbradden Evo's victory was also his last ever run, so the stars aligned for the perfect Swansong for a horse who's captured many hearts and admirers over his career.
"He owes us nothing and has punched above his weight for years. It's great to end his career with another good win," said Oliver.
Sally-Anne Egginton's 14-year-old gelding has definitely earnt his mark as a 4* professional over his relatively short career. As an original partner of Andrew Nicholson's, he was tipped for glory after being runner up on his CCI4*-S debut at Blenheim Palace. But when less than a year later Andrew had his crashing fall at Gatcombe, that saw him nearly paralysed, many were quick to question the horse's capabilities and safeness.
Perhaps it was just fate then that Gary found himself with Oliver, who himself is no stranger to being on the end of critic's opinions and proving them wrong. Their partnership together was something quite unique and so the horse who was once deemed dangerous, soon became hugely admired across the eventing community. They started 21 internationals together with 8 of them resulting in wins including, Blair Castle, Gatcombe and Burnham Market. The son of Creevagh Ferro Ex Siebe made his first 5* appearance at Pau in 2018 which finished in a disappointing elimination with a rider fall.
That result was soon put to bed and the following spring as Gary and Oliver made history at Badminton posting an incredible dressage score of 19.7, they then went on to finish an eventual 6th.
So, it is with no surprise that for a horse who's accomplished so much that he is deserving of an early retirement. Farewell Gary.