As February now approaches, it's soon time for the stallion shows to begin in the UK and Europe.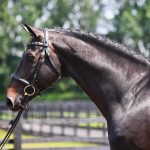 These give breeders the perfect opportunity to see different stallions up close and personal as well as in action, which is the perfect opportunity to make a decision as to which one is best suited to your mare. This is an important decision and not one people should take lightly if we are to really improve British Breeding. Caunton Manor Stud discussed with German dressage rider and previous stud hand Martin Schleicer factors to take into consideration when selecting a stallion:
* Will the conformation of the stallion compliment the conformation of the mare?
* Does the stallion's temperament suit the mare?
* Does the stallion's pedigree match the pedigree of the mare?
* Will the stallion offer the qualities to breed the desired offspring for the intended purpose/discipline?
* That the stallion is fully graded with an approved studbook?
Remember it is not necessarily vital that a stallion has any progeny on the ground yet or if the stallion has lots of progeny, it is also important to research the stallion's pedigree, especially the mother line and what is has produced so far. Obviously if there is progeny on the ground, this can give you a good indication as to what stamp and temperament can be passed on by your potential future sire. A performance record of an older stallion is desirable as it shows his own attitude in the sport, trainability as well as longevity and soundness.
As well as picking a stallion, as a breeder at this time of year there are also important things to remember when preparing your mare for the breeding season ahead. We asked our good friend Matt Hecking, Stud Manager at Oakham Veterinary Hospital, to provide an important guideline for mare owners to follow to help get the best pregnancy success rate this year. Here's what he had to say:
* In the run up to breeding your mare you should think about your mares weight. Both obesity and malnutrition can lower fertility rates, so she should be in moderate condition meaning you can feel the ribs with no obvious fatty deposits
* Before breeding we recommend mares undergo a pre breeding examination either at your own home/yard. This will involve a series of assessments involving physical, rectal and ultrasound examinations. This is also a good time to perform any pre breeding health tests which will be determined by the vet/stud that is carrying out the insemination. This will normally include a blood test for EVA and clitoral swab for CEM and may also include strangles and EIA. These tests can be performed after January 1 but must also be within 10 days of arrival at the stud to allow for results to come back.
* Check vaccinations and worming history are up to date
* Have teeth checked and rasped if required
* The majority of studs (including OVH) require that back shoes are removed
* Obviously, the most important decision is to select the stallion you would like to use. AI enables you to choose a stallion from anywhere in the UK or Europe and eliminates the inherent risks associated with natural service. An important consideration when choosing a stallion should be his availability throughout the year. If he is competing regularly when is he available for collections? If you are choosing semen from a stallion based in Europe you must bear in mind weekends/ national bank holidays, which can affect the decision making process in determining when to order semen. An important consideration should be whether the stallion is graded. This means he has undergone a full stallion vet inspection, with checks for soundness as well as potential hereditary problems.
One big question first time breeders usually have is what is the difference between using chilled and frozen semen? We asked Matt to clarify this below.
"During the breeding season, a mare ovulates (releases an egg) every 18-24 days — a process called cycling. Stallion availability, semen costs, plus the risk of increased post- mating endometritis or fluid accumulation from repeated inseminations means that one insemination per cycle is preferable.

In the run up to ovulation the process is the same whether for chilled or frozen semen.
• Daily examination of the mare is necessary by rectal ultrasonography of the reproductive tract and palpation the cervix.
• Uterine oedema (a sign the mare is ''in season'') increases up to a maximum before decreasing again in the final 12 hours.
• The cervix dilates and softens
• Some will show ovarian pain on palpation
* As ovulation approaches, the follicle begins to lose its round shape, develop a thicker wall and soften.
* When the follicle reaches a key size of 35mm we can use one of two ovulation-inducing drugs, Chorulon and Ovuplant.

From this point on timing is everything! The time of ovulation can be manipulated to enable insemination of semen at the optimum moment, according to its type. Fresh and chilled semen should survive within the uterus for approximately 48-72 and 12-24 hours respectively. Good pregnancy rates are therefore achieved with insemination being performed within these time periods prior to ovulation. Frozen semen has a much reduced survival post thaw and therefore requires greater accuracy, with insemination as close as possible to or up to a maximum of 6 hours post-ovulation."
Some mares take very well with frozen semen where as others, particularly older mares, sometimes fair better with chilled. But it really is down to the individual mare and also using a good reproduction/stud vet.
The UK stallion event takes place on Saturday 8th February at Addington Manor Equestrian Centre.
Most UK based stallions will be parading and it is also a great opportunity to meet them in their stables and talk to their owners. For all breeders and for anybody considering breeding this is an excellent opportunity to learn about and consider the stallions to use this year. We will also be there and look forward to welcoming you and any questions you may have.